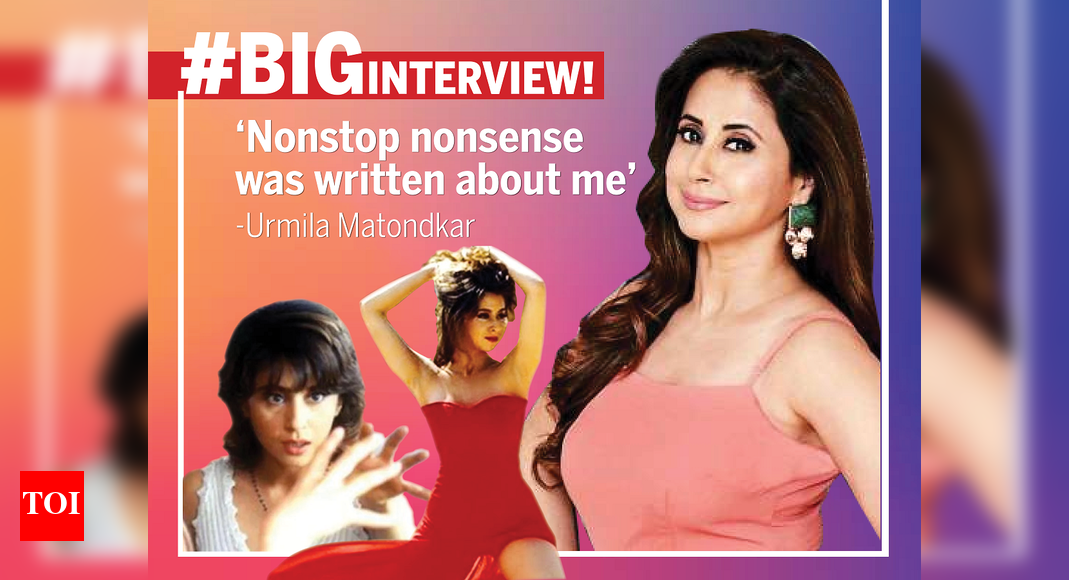 Urmila Matondkar: Sex-appeal is not garam masala, which you sprinkle on a dish – #BigInterview – Times of India
'Masoom' was just a nascent preview of her potential. Urmila Matondkar is amongst the rare child actors, who slalomed into a star. Without film connections and homegrown cheerleaders, a brilliant Urmila silenced sceptics with her full-sized portrayal in 'Rangeela'. With the right potion of glamour and grit, sensuality and sensitivity… the role became a blueprint for the heroine in the '90s, prompting a throng of clones. Rebuffing the formulaic, films like 'Satya', 'Khoobsurat', 'Pyaar Tune Kya Kiya', 'Bhoot', 'Ek Hasina Thi', 'Pinjar', 'Bas Ek Pal'… were Urmila's further attempts to unearth herself.
Her marriage to Kashmiri entrepreneur and model, Mohsin Akhtar Mir, has balanced her life. Snubbing stereotypes yet again, Urmila is in no hurry for motherhood. Rather, her recent foray into politics has befriended her to a reality way beyond Versace and Louis Vuitton. As the princess, who took to the streets, her best is yet to come…
Nepotism, marriage and politics, Urmila Matondkar tells it the way it is in a freewheeling chat with ETimes.
Excerpts:
Were you always drawn to the camera?

As a child, I was an introvert. The only time I came into my own was on stage. I participated in elocution competitions, plays, dance… while in school. I remember going to meet Sulbha Deshpande ji, who ran an institute for child artistes. It was for a role in Dr Sriram Lagoo's 'Zaakol' (1980). When she asked me my name, I mumbled it, looking into my knees. When she asked me to say it loudly, I had tears in my eyes. Nevertheless, I enjoyed acting. But the focus was always on education. I wasn't treated as a star at home. I secured 86 per cent in SSC and then moved to Ruparel College. I'd have been as good had I pursued another profession. But I wouldn't have been half as happy.
Shekhar Kapur's 'Masoom' (1983) must have served as a fine training ground…

Shekhar Kapur had a special vision for children on screen. He treated children as children and not as half-crack semi-adults. The children's characters (played by Jugal Hansraj, Aradhana Srivastav and Urmila) in 'Masoom' appeared real. Their love was real, their fights were real. Subconsciously, working with stalwarts like Shabana Azmi and Naseeruddin Shah gave me the right perspective early in my career. Though at that time, I was more concerned about missing school.
N Chandra's 'Narsimha' (1991) introduced you as a complete package. You didn't really go through struggle. Right?

I underwent tremendous struggle in my own way. I was still an introvert. I never visited any producer's office with my pictures. My parents were not connected to the film industry in the remotest way. I came from a simple middle-class family. There was no chance in hell for me to make it here. But destiny played its role. I happened to get the role in 'Narsimha' because the actress, who was signed for it, suffered a fracture. The climax was to be shot with 500 junior artistes and me where I'd to dance and sing. And I had no training in dance!
But even before that I was told off. That I'd never make it because I had nobody in the industry. I didn't have a famous surname. The media in the '90s was ruthless. I was 'trolled' for 'making faces', for not knowing this or that. Nonstop nonsense was written about me. That went on for four years, until 'Rangeela' (1995) happened.
Did Ram Gopal Varma's 'Rangeela' change things for you?

Post 'Rangeela', people said that everything I did was about sex-appeal and nothing to do with acting. How can the song, 'Hai Rama', happen without a person being a performer? Is doing a tear-jerking scene only acting? Appearing sexy also demands acting. I was not playing Miss Nothing in the film. My character of the girl-next-door transforms through each song of the film, which the critics didn't understand. Someday, I'd love to take their names and what all they called me. Even after being part of such a huge hit, forget awards, I didn't have a decent word written about me. My clothes, my hair… everything was given credit but me.
Girls who gave 13 flops, girls who were said to look like 'boys' with nothing woman-like about them, girls who did double meaning songs with heroes… were considered actors. But for me, being in front of the camera was a spiritual experience. To have Asha Bhosle and Lata Mangeshkar sing for me was by itself a victory. I didn't need awards. Looking back, I'd like to tell aspirants that it's a tough line. If you're not made of tough stuff don't venture.
Would you call this nepotism?

Absolutely! I did face nepotism though I didn't speak about it that time. It would have been viewed as a 'sour grapes' attitude. Or 'Nach na jaane aangan teda.' Whether it's politics, films, or any other industry, nepotism is as much there as the sun, moon and stars. It's obvious in the film industry because it's in the public eye.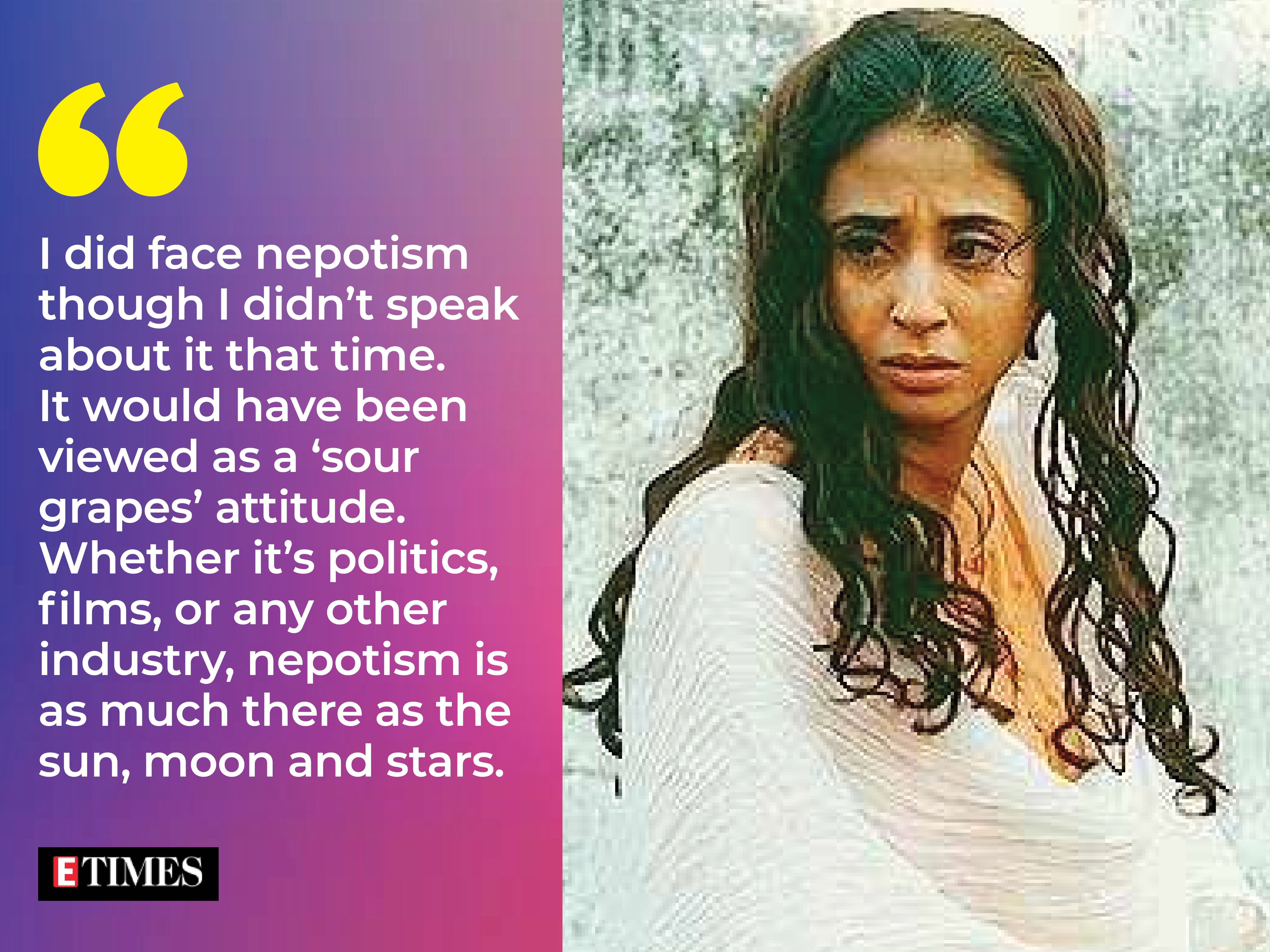 How did you then tackle rivalry?

I've never had a rivalry with any actress. Honestly, even today when I meet them at a party or at events, I am as happy to meet them as I was those days. They were working as hard even though they were 'someone's' daughters or nieces. If they were given special treatment by the makers or the media, it wasn't their fault. I'm not acting holier-than-thou but rivalry consumes too much of your energy. It's futile.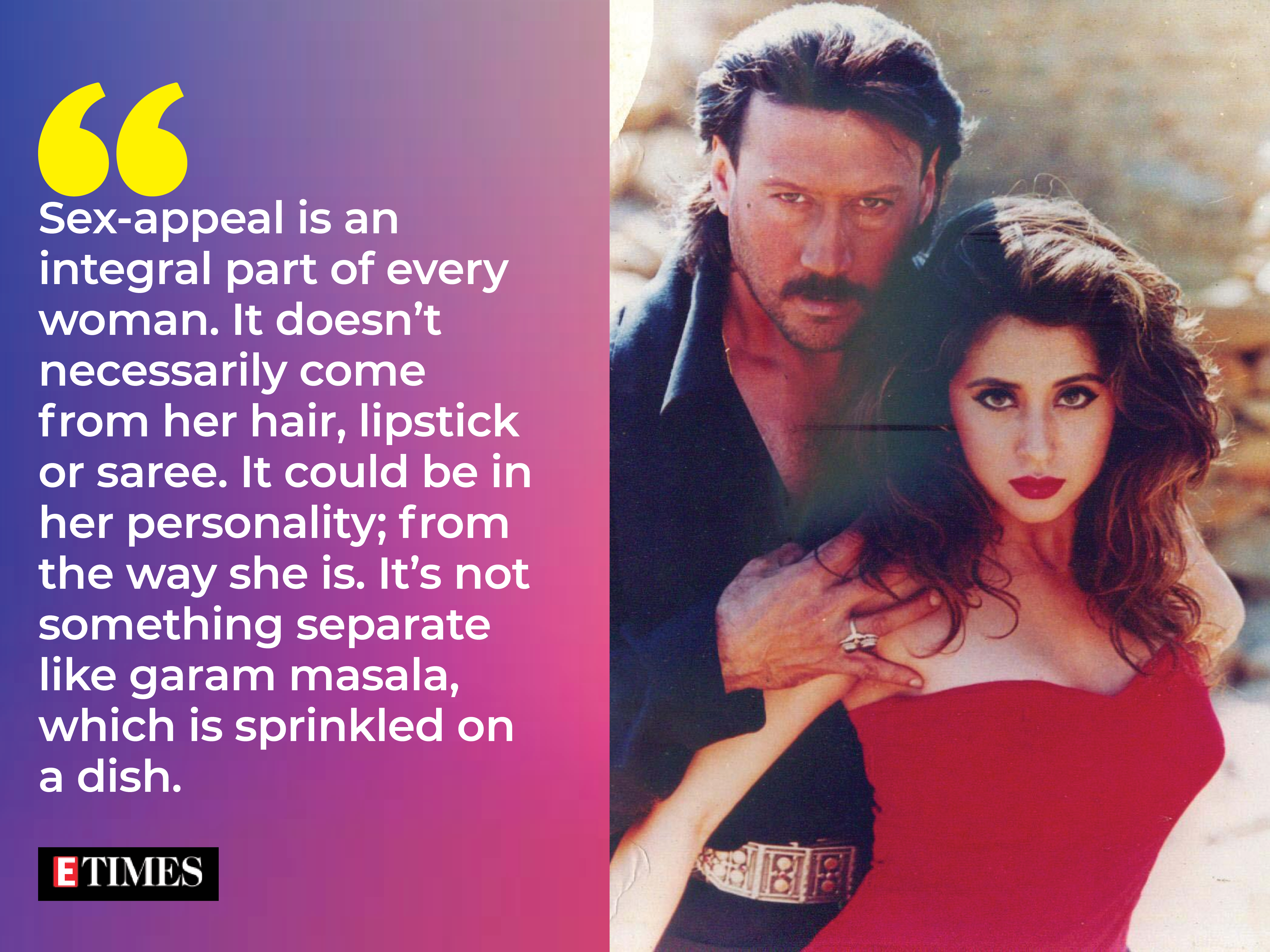 Coming back to 'Rangeela', it's considered an ode to your sex-appeal…

Sex-appeal is an integral part of every woman. It doesn't necessarily come from her hair, lipstick or saree. It could be in her personality; from the way she is. It's not something separate like garam masala, which is sprinkled on a dish. My character in 'Rangeela' was a blend of innocence and beauty.
Where did your sex-appeal lie?

Definitely in my eyes and face. Replay any song from 'Rangeela', the close-ups hit you more.
In 'Satya' (1998) you did a turnaround playing a saree-clad simple girl…

The challenge was looking convincing as the girl from a chawl, considering that I was a huge star by then. I was told it would prove risky. They said the same when I did the thriller 'Kaun?' (1998). But I've always taken risks, attempting different genres and characters. Any other actress would have done 25 more Rangeelas. Some actresses did film after film with one actor. You wouldn't be able to name the films if you didn't know better because they wore the same clothes, went to the Alps and danced religiously till their bones broke. But I made it a point to attempt something different each time. Be it 'Pinjar', 'Bhoot' (both in 2003), 'Ek Hasina Thi' (2004) … I used my stardom to explore myself as an actor.
'Pyaar Tune Kya Kiya' (2001) was an offbeat outing too…

I have deep gratitude for the makers (director Rajat Mukherjee, producer RGV) of 'Pyaar Tune Kya Kiya '. I remember the late Feroz Khan telling me in his inimitable style, 'You made me cry in the last scene. And I don't like crying.' Amit ji (Amitabh Bachchan) wrote me an appreciative note post 'Bhoot'. People at airports, restaurants… came up to tell me how much they appreciated me in 'Ek Hasina Thi'. Though not a commercial hit, it was ahead of its times. It was made with such restraint. Few actors can underplay to that extent and still create an impact. I remember Anil Kapoor ji telling me during 'Judaai' (1997), 'Urmila tu bahut zyaada underplay kar rahi hai!' But there was no other way to approach the character in 'Judaai'.
Your association with Ram Gopal Varma worked the best for you both. What made you tick?
I guess it was the quest to tread the unexplored. Every film was a benchmark of sorts. We started with 'Drohi' (1992), a beautiful film but a bit dark for the audiences. 'Daud' (1997) was a crazy comedy, 'Kaun?', a thriller. I still get compliments for 'Satya' though. Shobha De told me, "There are many who can do 'Satya'. But there's only one Urmila who can do 'Rangeela'." It took me a while to understand that because I was on this trip to prove to the critics – who were 'uncle' to some actresses. Their fathers and mothers knew the critics for years. Whereas I looked up to the critics. In hindsight, I don't think they deserved that respect. There's not a single actress of that time, who hasn't worn an outfit identical to what I wore in 'Rangeela', coloured her hair like mine or danced like me on screen. So what else is there for me to prove?
What attracted you to Chandraprakash Dwivedi's 'Pinjar' (2003)?

Apart from the Partition and the Hindu-Muslim angle, this constant need for women to prove themselves was what attracted me to the role of Amrita Pritam's Puro in 'Pinjar' (2003). Even today, women are still going through similar problems in society and in their homes. It's my homage to them.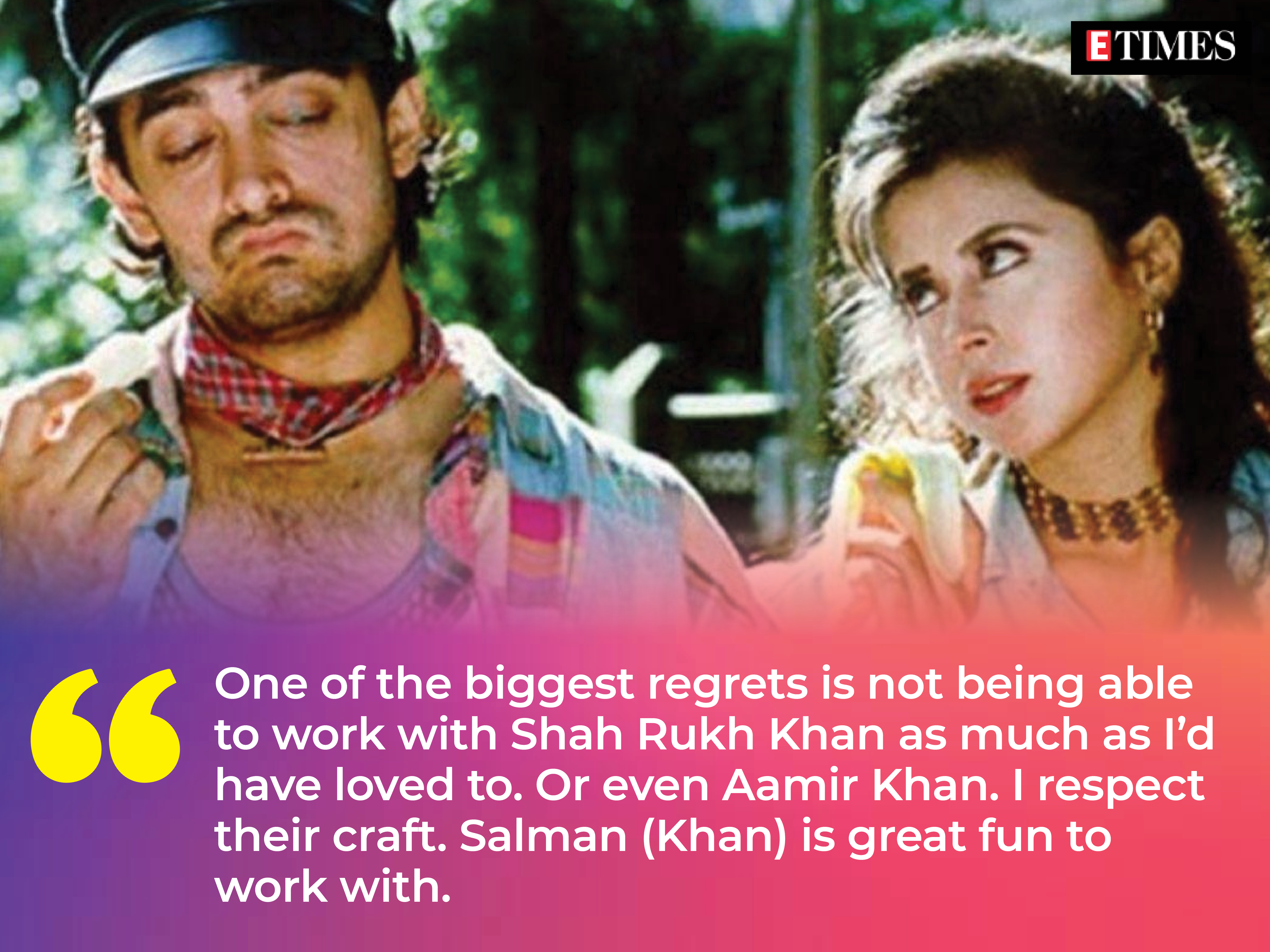 You did few films with the Khans and established banners opting to work with newcomers…

It was not a deliberate decision. When the opportunities came, they were not meaty enough. One of the biggest regrets is not being able to work with Shah Rukh Khan as much as I'd have loved to. Or even Aamir Khan. I respect their craft. Salman (Khan) is great fun to work with. I tell him, 'I'd love to look like you. So fresh and good!' I watch some of the 'Bigg Boss' episodes just because of him. He's so entertaining.
Yes, I've worked the maximum with first-time directors. Like Sriram Raghavan, Sunny Deol ('Dillagi' – 1999), Chandraprakash Dwivedi, Rajat Mukherjee… I went blindly with Sriram's vision in 'Ek Hasina Thi'. An actor may have a myopic vision, while a director has a top angle view. Newcomers have energy and fresh vision as compared to settled filmmakers. Though not all the time. Sometimes it has boomeranged on my face. In retrospect, had I had good co-actors in some films the outcome would have been different.
And then you gave it all up after marriage to Mohsin Akhtar Mir in 2016…

I didn't give it up. Life comes in different phases. I believe in living up to each phase. When I got married, I wanted to enjoy that. I don't believe life is a one-track episode. I see it as multi-faceted. I want to experience everything to the fullest. Films have been the best part of me. But it's not the end of me and my life. I've a great body of work behind me. So, I need to feel excited enough about a project to take it up.
What has marriage brought you?

A lot. One should only get married when one is sure. Because it's going to take your being and life to another level. It's not an absolute necessity in life. I'd like to tell single people, unless very sure, they should not go for it. It's not a must-do in life. Having said that, everything is a lot more fun when you have the right person in your life. Be it my political career or anything else, there's a balance in life. There are many attributes that Mohsin has which I don't and vice versa. So, we complement each other. We bring different things to the table. Basically, there's a sense of fulfilment.
What does love actually mean to you in real life?
Companionship. We may not necessarily like the same thing. But being able to appreciate the other's perspective makes life more beautiful. That's the best way of settling in with the person you love. While on reel you break into a song every two minutes, in reality, life should become a song.


How do you rate yourself as a wife?

(Laughs) Ask my husband! But yes, I'm a chilled-out wife. By nature, I'm a giver. I let a few people into my life. Once they're there, they're forever. Even those I met in my career, actors, filmmakers, journalists… those who I've fond thoughts of, I remain connected.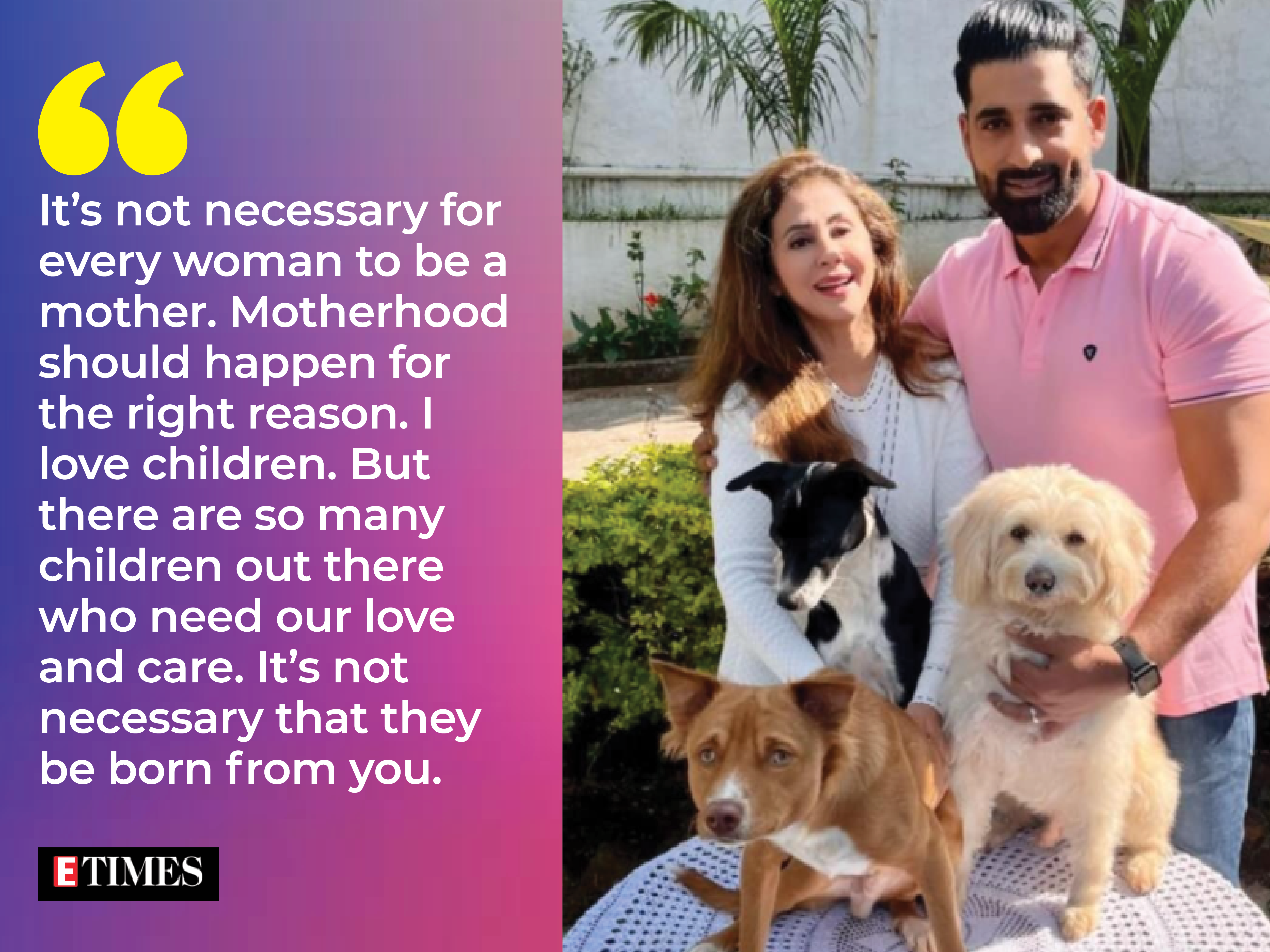 Are you looking forward to motherhood?
Yes and no. If it happens, it happens. I'm not looking forward to it nor am I 'not looking forward' to it. It's not necessary for every woman to be a mother. Motherhood should happen for the right reason. I love children. But there are so many children out there who need our love and care. It's not necessary that they be born from you.
Politics seems to have liberated you, in the sense, you are now more seen and heard…

Like marriage, politics has also liberated me. I had offers to join politics since 1999. I never thought I would get into it. Eventually, I took the path less travelled for social reasons than political. Where our country is or heading towards, is not the country I'd be happy with. You need to speak up for things you stand for.
You seem to be enjoying your interaction with the masses…
Politics for me includes social concern. When I was in school, my parents would give charity to social organisations on my birthday. In recent times, I like to spend time in old age homes and with orphans. When I visited the flood-ridden areas of Maharashtra, people said I'd gone there because I wanted an assembly ticket. I'd have gotten that even without going there. Though I lost in 2019, understanding people's problems filled me with gratitude. Gratitude is a process of evolution. Just as service is.
Few years back, I carried an off-the-runway Versace bag, had runway shoes on my feet… That was a phase, this is also a phase. Mohsin finds my ability, not to take myself seriously as a star, fascinating just as my ability to merge with people. One day, I could be giving hardcore political interviews on channels. On the other, I could be with the poorest of the poor. Though I'm equally proud of both the personas.
It must be fun not to worry about vanity anymore…
I was always like this. Anyway, after marriage I put on some kilos! Off screen, I've largely remained without make-up. Make-up has not been my best friend. Though I like to see it on some women. They carry it off so well.
How do you take criticism and slander? More recently, you were referred to as 'a soft porn' actor.
I'm not talking about any one in particular, but generally what you say about someone reflects your personality and the depth of your mind and soul. My entry into politics has been viewed as an opportunistic move. I don't blame them because there have been and are actors, who are in politics for reasons other than the one I mentioned. Each to his own. Time was the best answer when it came to my films. The same will be in politics. People know I'm not here for time-pass.
An advice for women…
Don't let anyone and anything put boundaries on you. Don't let insecurities and fears pin you down. If I can stand up against it all and still be speaking about it in a glorious manner, so can anyone else. Only you should decide how you deal with your life.
Any lingering regret?
I'm not a 'regret' kind of person. Everything comes with the good and the bad. Like the watch that has stopped also shows the correct time twice a day.

For all the latest entertainment News Click Here 
Denial of responsibility!
TechAI
is an automatic aggregator around the global media. All the content are available free on Internet. We have just arranged it in one platform for educational purpose only. In each content, the hyperlink to the primary source is specified. All trademarks belong to their rightful owners, all materials to their authors. If you are the owner of the content and do not want us to publish your materials on our website, please contact us by
email – 

[email protected]
. The content will be deleted within 24 hours.