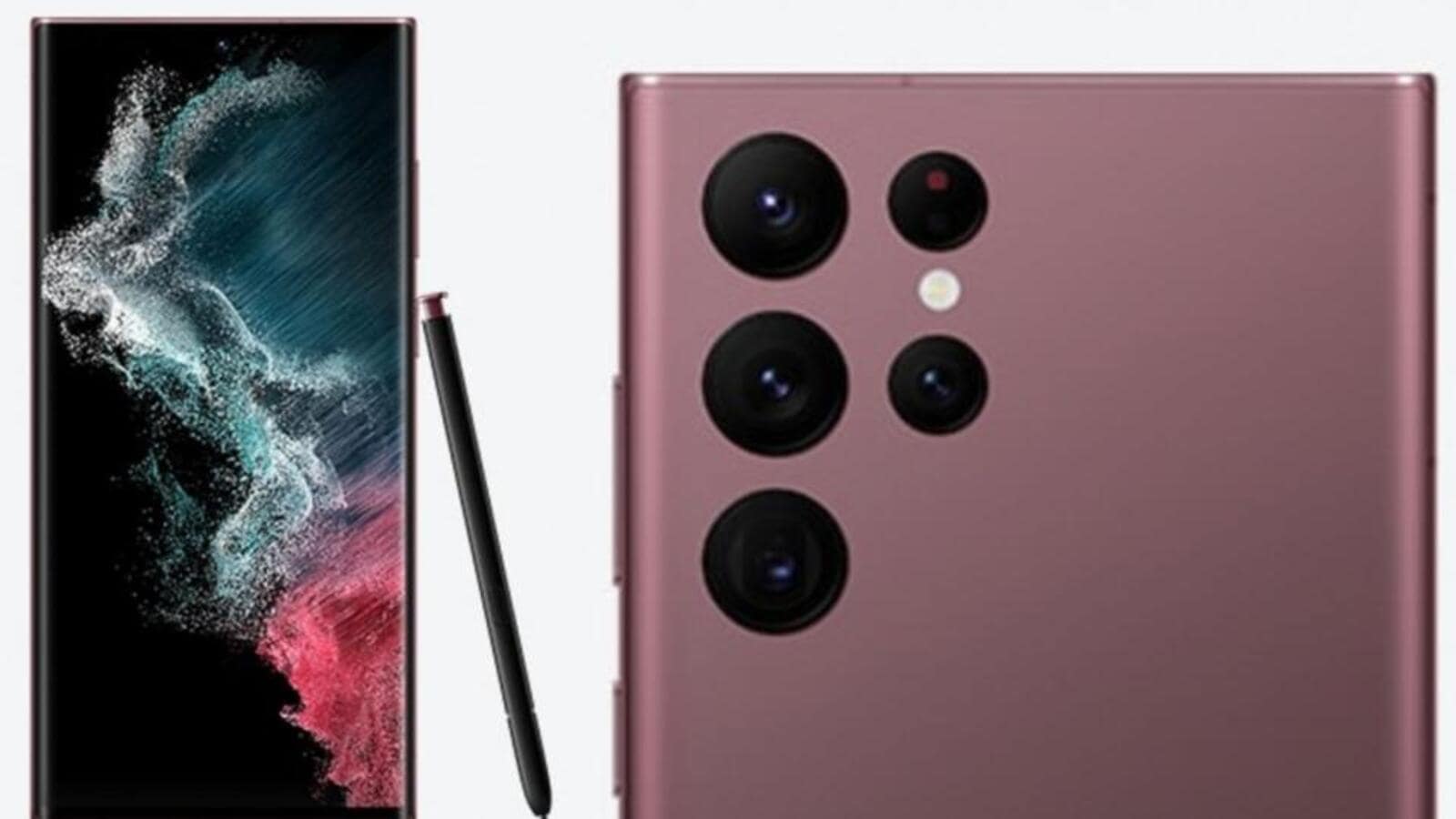 Samsung Galaxy S22 Ultra: A Galaxy Note within a wider galaxy
For Samsung, the approach towards Android flagship phones doesn't necessarily subscribe to the theory of a single torchbearer as the ultimate choice. In fact, the newest Galaxy S22 series is three phones wide (plus, a plethora of configurations and colours), and that as a formula has increasingly worked well over time. Therefore, you'll have to pick from among the Galaxy S22, Galaxy S22+ and Galaxy S22 Ultra.
That's one way of giving you multiple screen sizes and differing levels of tech. It is the Galaxy S22 Ultra which gets the goodness of the largest screen size, display tech and the S-Pen. Perhaps that'll add value, depending on what you are looking for. There is more pressure on the Samsung Galaxy S22 Ultra, which now steps in as the practical replacement for the Galaxy Note series.
What you see and what's under the hood
For once, the Samsung flagship phones don't run the Exynos processors. Instead, it is the top-of-the-line Qualcomm Snapdragon 8 Gen 1 chip, which has generational performance and battery life improvements. Start using it, and it behaves exactly how a flagship phone should. The 120Hz refresh rate makes everything glide smoothly, adding to the perception of fluidity.
But there are a few noticeable things. First, the Galaxy S22 Ultra did get quite warm when pushed, either with games or even extensive camera use, though this has reduced to a certain extent with the latest One UI update. Yet, the temperature change around the middle of the back panel still cannot be ignored. This is our first experience with the Snapdragon 8 Gen 1 chip in a smartphone, and we cannot give a definitive comment on whether this indicates chip behavior or something unique to the phone.
The fact that things have improved after the software update does give hope that it's an issue which will get ironed out with more updates. We hope it does, because extra heating also makes the battery drain faster. Secondly, One UI doesn't seem to bring any generation step forward at all, not compared with what we saw last year. And there's nothing extra for anyone buying this expensive phone.
However, there are still some goodies which you'll eventually discover. There's a more flexible integration of Google Duo video calling app, useful if you're calling someone who also has a newer Samsung phone – share screen and auto-framing to keep your face centered. If you eventually get a Samsung Galaxy Tab S8, the phone can be configured as a second screen if both devices are on the same Wi-Fi (we haven't been able to test this yet).
Is S-Pen the definitive reason to splurge?
With the Galaxy Note series now discontinued, the Galaxy S22 Ultra takes up the mantle. The implementation is the same as it always was, right down to the physical contours of the stylus. But, that's not the end of the switch-over. Samsung has reduced the latency to 2.8 milliseconds, from 9 milliseconds of the Note 20 Ultra. Pop out the stylus, and you're presented with a plethora of scribbling and note-taking options.
Everything just works smoothly, and any legacy S-Pen users will not come across an unexpected learning curve, and neither would new users take time to get a hang of it. That said, the utility of a stylus will be subjective, and that's something you must ask yourself – would you rather scribble something on a phone screen or type it out?
A screen that's been retuned, inside and out
One of the largest display sizes in smartphones right now, this 6.8-inch device takes advantage of the LTPO 2.0 tech to switch to lower refresh rates (Samsung claims as low as 1Hz), and that includes times you may be watching HDR content. Not many displays can manage this, including other Galaxy S22 phones which use the LTPS tech instead. In theory, the ability to drop screen refresh rates should help with battery life over time.
It is not just the underlying tech, but visually, you'll notice saturation has been dialed down, even in the Vivid mode (Settings > Display > Screen mode). We still prefer Natural, but if you stick with Vivid, there is the option to tweak the white balance (cool or warm, depending on preference). There is the feeling that Samsung's approach is 'less is more'.
You will also notice an option called 'Extra Brightness', which does boost illumination to make on-screen text easier to read if you're out and about on a bright day. The screen is certainly reflective and having this option should prove useful.
Camera's familiar ingredients but very different results
The quad camera setup in the Galaxy S22 Ultra is almost identical to the one on the predecessor, albeit changes in sensor dimensions and pixel sizes. It still leads with the 108-megapixel sensor. The differences (read 'improvements') that you'll see with photographs are mostly software driven. The 10x optical zoom is more usable this time around. Portrait photos map the depth a lot better (strands of hair, for example).
Overall, there is more photographic detail than last year's phone and brightness is better balanced in photos with uneven lighting. You'll appreciate that saturation has been dialed down a smidgen, which gives photos natural colours. Night Mode improvements are appreciable, particularly when you use the higher resolution option for more data. That said, 10x zoom in low light photos still requires finesse.
Complexity of the camera app
The Samsung Galaxy S22 Ultra camera app is heading towards a stage where a fresh start may become necessary. There are a lot of features now integrated, and as it often happens, the interface is now multi-layered.
Adaptive Pixel is an example; it isn't enabled by default. You need to enter the 108-megapixel photo mode, which also means when you are shooting in low light, you must not switch to 'Night Mode'. But still there is no way of knowing whether Adaptive Pixel is working in the background, to take a second 12-megapixel image that'll be used for stitching together the details.
At this moment, you also need to choose whether to enable a second feature called Detail Enhancer. We would recommend enabling this – there is a marked detailing difference in photos with and without.
If you want to take raw photos, you'll have two choices. Either use the Pro mode for standard raw images or download the Expert RAW app from the Galaxy Store. The difference between these two formats is that the latter takes as many as 15 images, depending on the complexity of the scene, to pull in details that'll show up in the final image you see. That theoretically makes it more versatile for editing. The gallery interface of the camera app, and the Expert RAW app, are different too – an unnecessary division.
Is the battery life the weak link?
Fast charging isn't exactly an out-of-the-box experience. While the Galaxy S22 Ultra supports 45-watt fast charging, you'll need to buy that adapter. That is just how some flagship phones are being sold these days. If you already have a wireless charger on your bedside table or office desk, the 15-watt wireless charging should hold you in good stead – that's about an hour and a half for a 60% charger battery to be fully juiced up.
There's a large 5000mAh battery to keep the Galaxy S22 Ultra chugging along, but the stamina isn't as robust as we would have liked. Moderately heavy usage through typical workdays, without any gameplay but some camera use, would see the battery hover around the 25% mark by the end of the day. This means on unplanned hectic days, you could be reaching for the charger in the evening, just to be sure.
Price and the landscape puzzle
Looks matter, for expensive phones. The Galaxy S22 Ultra has a design that's a pleasant reminder of the Galaxy Note series. Right down to the S-Pen integration and the chamber where it sits. The other Galaxy S22 phones look different. You'll notice soon enough that the cameras (there's four of them) don't sit on a ridge and instead protrude ever so slightly from the rear panel. The cleaner design has its advantages, one being the phone rests better on a table.
The Galaxy S22 Ultra positioning is reflected in the price. Two variants to choose from – ₹1,09,999 (12GB+256GB) and ₹1,18,999 (12GB+512GB). Prices aren't entirely dissimilar from the predecessor.
It may not impact the Galaxy S22 Ultra as much, but Galaxy S22 ( ₹72,999 onwards) and Galaxy S22+ ( ₹84,999 onwards) have the first mover advantage against the upcoming OnePlus 10 Pro. That's expected to be very similar on the spec sheet to the S22 Ultra, but if the price tag is any lower (as it should be), it may give the Galaxy S22+ something to worry about.
In a nutshell, if you don't want the stylus or aren't entirely excited by the 10x camera zoom, you don't need the Galaxy S22 Ultra. Also, if you are already using a Galaxy S21 Ultra, there is little incentive for you to quickly stuff your wallet with cash and credit cards, and quickly order one.
The three phones, in varying degrees, form the aristocracy of Android hardware. There is the argument that you don't need to spend so much on an Android phone – as the likes of OnePlus 10 Pro and Xiaomi Mi 11 Ultra lend credence. Yet, the Samsung Galaxy S22 Ultra sits above general Android phone competition. There is very little chance of things going wrong.
For all the latest business News Click Here 
Denial of responsibility!
TechAI
is an automatic aggregator around the global media. All the content are available free on Internet. We have just arranged it in one platform for educational purpose only. In each content, the hyperlink to the primary source is specified. All trademarks belong to their rightful owners, all materials to their authors. If you are the owner of the content and do not want us to publish your materials on our website, please contact us by
email – 

[email protected]
. The content will be deleted within 24 hours.