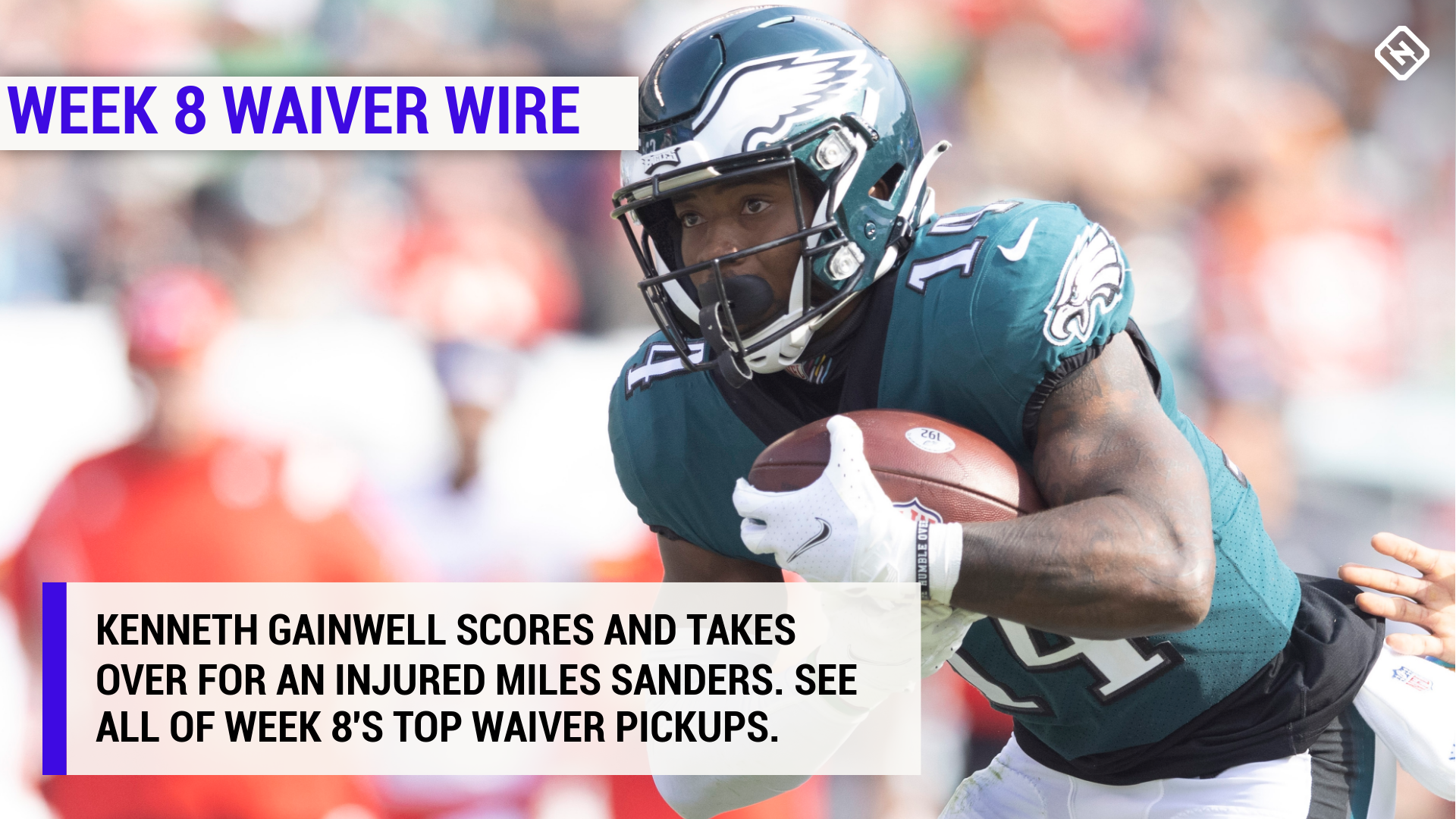 Best fantasy football waiver wire pickups for Week 8
Considering six teams were on bye, it's not a surprise there weren't many breakout performances or major injuries on Sunday. However, there were a few, as Miles Sanders (ankle) exited early and opened the door for popular preseason sleeper Kenneth Gainwell to take over at RB. A few pass-catchers also stepped up, with Russell Gage scoring in his first game back, Rashod Bateman continuing the impressive start to his rookie season, and C.J. Uzomah throwing his hat in the ring as breakout TE of the year. All will be among our top Week 8 fantasy waiver wire pickups and free agent adds in a week that lacks a lot of high-quality options.
However, what we lack in quality, we make up for in quantity. Our full free agent list features several more interesting WRs (Allen Lazard, Darius Slayton, Kalif Raymond), some worthwhile handcuffs (Brandon Bolden, Devonta Freeman), and a couple key players returning from injury (Rashaad Penny, Michael Gallup, Tre'Quan Smith). And even though there are just two Week 8 byes (Raiders, Ravens), we also have also have a ton of Week 8 streamer suggestions at QB, WR, TE, and D/ST, which can be found at the end of this list. 
WEEK 8 PPR RANKINGS:
Quarterback | Running back | Wide receiver | Tight end | D/ST | Kicker
Gainwell is going to command a top waiver claim unless we get optimistic news on Sanders before Tuesday night (which we probably won't). Depending on how Penny performs on Monday night, he could also require a high claim. Other than those two, chances are you won't use a waiver claim unless you really need help at a certain position or want one of the returning IR guys. (Also, check to see if yours is one of the 26 percent of Yahoo leagues where Jerry Jeudy is available.)
WEEK 8 STANDARD RANKINGS:
Quarterback | Running back | Wide receiver | Tight end | D/ST | Kicker
Overall, this a poor waivers week but a strong free agent week. There are a bunch of widely available and decent players, especially at QB, TE, and D/ST, with favorable matchups this week. Don't settle for a borderline player with a poor to mediocre matchup just because they're already on your roster. Always be looking to upgrade. As long as you're not dropping a legitimately good player with long-term upside, check the matchups and consider some of these streamers. 
Top fantasy football waiver wire pickups for Week 8
Unless otherwise noted, only players owned in fewer than 50 percent of Yahoo leagues considered.
#1

Kenneth Gainwell, RB, Eagles

Gainwell caught a 13-yard TD on Philadelphia's first drive, then he led the backfield after Miles Sanders' ankle injury. He finished the day with 61 total yards and a TD on nine touches, though it's worth noting he actually have two fewer carries than Boston Scott, who also scored. Gainwell figures to operate as the lead back in Week 8 in a favorable matchup against Detroit if Sanders can't go, giving him RB2 value, especially in PPR leagues. Gainwell saw eight targets (many in garbage time), dwarfing Scott's two targets. — Matt Lutovsky

#2

Allen Lazard, WR, Packers

Lazard has been on the field a lot this year, but it wasn't until Week 6 he finally saw some modest production. That continued in Week 7 when he caught five-of-six targets for 60 yards and a TD. Lazard has clearly established himself as the No. 2 receiver in this potentially potent offense, and that always has value in fantasy leagues. Lazard will look to keep his hot streak going next week against the Cardinals before getting three straight favorable matchups (Chiefs, Seahawks, Vikings). — ML

UPDATE:With Davante Adams (COVID) likely out for Week 8's Thursday night game in Arizona, Lazard will be a borderline "must-start" in all formats.

#3

Russell Gage, WR, Falcons

Gage was a popular preseason sleeper, but a slow start and an ankle injury derailed him in a hurry. He got back in the field in Week 7 and immediately made his presence felt, catching four-of-six targets for 67 yards and a score. He figures to be the Falcons' No. 3 target, but given how often Atlanta throws, there's still plenty of potential value there. Gage has flex upside against a struggling Carolina defense in Week 8. — ML

#4

Boston Scott, RB, Eagles

Scott actually receivedtwo more carries (7) than KennethGainwellafter Miles Sanders (ankle) exited early on Sunday. Scott totaled 29 total yards on eight touches and scored on a short TD run.Gainwellhad just nine touches, but he saw eight targets and had 61 total yards. If Sanders misses next week, it's possible Scott is as involved asGainwell. As it stands, we thinkGainwellwill get more playing time, especially if the game is relatively close. Scott took advantage of garbage time in Week 7 and can certainly do it again, which gives him value in PPR leagues, so he's still worth adding on the chance he playsmore than we think in a highly favorable matchup against theLions. — ML

#5

Deshaun Watson, QB, Texans

Many expect Watson to be traded by the Nov. 2 trade deadline, with the Dolphins or Panthers as the most likely landing spots. It's unclear if he'll actually be able to play, as the NFL hasn't yet ruled on his availability because he's been on the Texans' exempt list this whole season. Until the NFL says something, Watson will be eligible to play right away, so he could have value as soon as Week 9. Of course, he could just easily not see the field at all this year. We know the talent Watson has, so he's worth stashing just in case. Even if you don't need him, it's not a bad idea to keep him off someone else's team. — ML

#6

Rashod Bateman, WR, Ravens

Bateman had a decent showing in his season debut in Week 6, and he followed that up by catching three-of-six targets for 80 yards in Week 7. At the very least, the talented rookie has big-play potential every week, and it appears he's just scratching the surface. He's been helped by the absence of Sammy Watkins (hamstring) — and he's clearly no higher than third in the receiving pecking order behind Marquise Brown and Mark Andrews — but Bateman is worth stashing for the second half. — ML

#7

Michael Gallup, WR, Cowboys

Gallup(calf) is expected to return from the IR in Week 8. He hasn't played since Week 1, but we know he can be an explosive part of the Cowboys' high-powered offense. He's worth having on your bench as a possible WR3/flexvalue going forward, especially in Week 8 against Minnesota. — ML

#8

C.J. Uzomah, TE, Bengals

Uzomah continued his breakout season in Week 7, catching all three of his targets for 91 yards and two scores. He's been mostly all-or-nothing, but that's true of most waiver wire TEs. With five TDs in his past four games, there's still a lot to like here. A favorable matchup against the Jets in Week 8 puts him squarely in the streamer conversation. — ML

#9

Darius Slayton, WR, Giants

Slayton might be nothing more than a one-week flash, as Kadarius Toney (ankle), Kenny Golladay (knee), and Sterling Shepard (hamstring) were all out in Week 7, but we know Slayton is talented and capable of big plays. He led the Giants in targets (9) and receiving yards (63) against the Panthers, and if any of the three players mentioned above are out next week against Kansas City, Slayton will be in play as a boom-or-bust flex. — ML

#10

Brandon Bolden, RB, Patriots

Bolden saw just two carries in Week 7, but he starred as New England's receiving back, catching six-of-seven passes for 79 yards and a TD. It's tough for an RB to make a fantasy living based completely on his receiving stats, but Bolden will likely get more carries in some games and remain active in general. If starter Damien Harris puts it on the ground again, Bolden could take over given Bill Belichick's fickleness. A highly favorable matchup against the Chargers in Week 8 will have Bolden in flex territory in PPR leagues. — ML

#11

Salvon Ahmed, RB, Dolphins

With Malcolm Brown (quad) going on IR, Ahmed is now the clear handcuff to Myles Gaskin. Considering Gaskin has disappeared in multiple games this year and Ahmed shined when he got regular playing time last season, it's worth stashing the second-year back on the chance he sees a significant uptick in playing time. — ML

#12

Kalif Raymond, WR, Lions

Raymond was far and away the target leader among Detroit WRs in Week 7, catching six-of-eight looks for 115 yards. The Lions are an unreliable passing team, at least when it comes to the WRs, so Raymond likely won't be consistent going forward, but he has some PPR upside if he continues to operate as Detroit's No. 1. He'll be ranked as a borderline flex next week against Philadelphia. — ML

#13

Tim Patrick, WR, Broncos

Patrick had been remarkably consistent prior to a Week 7 dud, and with Jerry Jeudy (ankle) set to return in Week 8, it's tempting to think Patrick will be phased out of the Broncos passing attack. It's possible, but it's also worth holding him until we see how targets shake out. Denver has a highly favorable matchup against Washington coming up in Week 8 and a potential high-scoring game against Dallas in Week 9. — ML

#14

Marquez Callaway, WR, Saints

Callaway was joined by Tre'Quan Smith (hamstring) on Monday, but Callaway still dwarfed all other Saints wide receivers in targets (7). He caught just three for 32 yards, but he'll clearly be the receiver unit Michael Thomas (ankle) returns. That means Callaway has plenty ofpotential value in highly favorable matchups against Tampa, Atlanta, and Tennessee in Weeks 8-10. — ML

#15

Randall Cobb, WR, Packers

Cobb hasn't done much for the Packers this year, but with Davante Adams (COVID) likely out for Week 8's Thursday night game in Arizona, Cobb figures to see a nice uptick in targets. Allen Lazard is more likely to the nominal "No. 1 receiver," but Cobb can still make waves in PPR leagues with a bunch of short-to-intermediate targets as Aaron Rodgers' must-trusted receiver. The Packers have three straight favorable passing matchups in Weeks 9-11 (Chiefs, Seahawks, Vikings), so Cobb could have some streaming value then, too. — ML

#16

Will Fuller, WR, Dolphins

Fuller (finger) is eligible to come off the IR in Week 8, and while it's unclear if he actually will — or stay healthy if he does — but Fuller is worth stashing. He's capable of monster weeks, and with the Dolphins slinging the ball all over (and possibly getting an upgrade at QB soon), Fuller could be a major second-half contributor. — ML

Update:Fuller is not expected to play in Week 8, though he's reportedly "making progress."

#17

Hunter Renfrow, WR, Raiders

It was another high-volume, medium-production day for Renfrow. He caught seven-of-eight targets for 58 yards. That kind of line is good enough in a PPR league, so if he's available, stash him now. He should be poised for a solid finish after Vegas' Week 8 bye. — ML

#18

Devonta Freeman, RB, Ravens

The absence of Latavius Murray (ankle) didn't lead to Freeman dominating RB touches. It was a three-headed "attack" for the Ravens, as Le'Veon Bell (5), Freeman (4), and Ty'Son Williams (2) all saw playing time. However, Freeman got the goal-line carries and entered the game more often in passing situations. He finished with seven touches, 39 total yards, and a TD against the Bengals. Obviously, if he doesn't get the TD, he has a disappointing day, but he has the most upside of those backs if Murray remains out after Baltimore's Week 8 bye. — ML

#19

Marlon Mack, RB, Colts

Mack's placement on this list is all about his potential landing spot in a trade. He's been rumored to be on the move for a while, and with the trade deadline coming up, we should know soon whether he has any additional value and is worth keeping around or if he's nothing more than a handcuff who will be on the waiver wire in most leagues. — ML

#20

Jamycal Hasty, RB, 49ers

Hasty got three carries and six targets on Sunday night in his first game back from a knee injury. It's possible he's nothing more than a handcuff to Elijah Mitchell, but he could have some standalone value given how the 49ers have used multiple backs in the past. He's a low-end free agent, but he could have some value when you factor in that Mitchell has already dealt with an injury this year. — ML

#21

Rashaad Penny, RB, Seahawks

Penny (calf) came off the IR on Monday and ran six times for nine yards. The lack of production mixed with Alex Collins' 16 carries is obviously a discouraging sign, but it's possible Penny sees more playing time nextweek against the Jaguars. Collins also struggled (35 yards), so his groin injury might have beenbothering him. Either way, Penny is worth grabbing as a free agent and stashing on the chance he sees more work next week. — ML

#22

Peyton Barber, RB, Raiders

Barber isn't worth more than a free agent pickup — and even that might prove useless. He's been a healthy scratch the past couple weeks, but with Josh Jacobs exiting Week 7's game early in the second half because of a chest injury, Barber could find himself with some value after the Raiders' Week 8 bye. He was the primary ball carrier when Jacobs was out earlier in the season, although that was when Jon Gruden was coach. Kenyan Drake seems like the firmly entrenched handcuff — and it's entirely possible Jacobs will be back — but stashing Barber isn't a bad move if you have the space. — ML

#24

Jameis Winston QB, Saints

Winston has a great matchup with the Bucs in Week 8, so regardless of how he plays on Monday, he's a pentital streamer. — ML

#25

Carson Wentz, QB, Colts

Wentz has been better than expected this year and plays a banged-up, porous Titans' secondary in Week 8. After another multi-TD game, he'll be a top streamer next week. — ML

#26

Daniel Jones, QB, Giants

Jones will take on Kansas City in Week 8, and any quarterback is worth consideration against the Chiefs. He had a couple of boom weeks early in the season, and this is a get-right game for him — especially if some of his key receivers are back. — Jackson Sparks

#27

Teddy Bridgewater, QB, Broncos

Bridgewater continues to draw awful defenses, and he's delivered on a few occasions this season as a streaming option. Washington is the worst defense against fantasy QBs, so it's wheels up for Teddy two gloves once again in Week 8. — JS

#28

Trevor Lawrence, QB, Jaguars

Lawrence is coming off of a much-needed bye week, and he'll get a favorable matchup right out of the gate. Seattle's defense is as bad as many expected, so Lawrence could have a solid Week 8 fantasy outing, even if he has a few turnovers. — JS

#29

Tua Tagovailoa, QB, Dolphins

Tagovailoa continues to be plagued by turnovers, losses, and Deshaun Watson trade rumors, but he's also putting up some big fantasy numbers. He threw for 291 yards and four TDs and rushed for another 29 yards against Atlanta in Week 7. A brutal matchup against Buffalo will have Tua on fantasy benches in Week 8, but after that (assuming he's still the Dolphins starter), he gets Houston. Depending on your QB situation in Week 9 when the Lions, Seahawks, Bucs, and Washington are on bye, Tua might be worth stashing now. He has some long-term appeal even in neutral matchups, too. — ML

#30

Trey Lance, QB, 49ers

Jimmy Garoppolo should remain the starter in San Francisco, but we still like the idea of stashing Lance for the possibility of late-season upside. We saw signs of what he can do in his first career start with 89 rushing yards. — JS

#31

T.Y. Hilton, WR, Colts

Hilton (quad) missed Week 7 after making his season debut in Week 6. And so it goes for the veteran WR. Perhaps Hilton will be a constant injury worry, but he's worth stashing if he can stay in one piece. The Colts have Tennessee next week, so Hilton is a borderline must-start if active. — ML

#32

Laviska Shenault Jr., WR, Jaguars

Shenault's ownership has dropped to just over 50 percent in Yahoo leagues, but don't forget about him just because he had a bye. He tied a season-high with 10 targets in his last game, and he figures to be Jacksonville's No. 2 receiver going forward. Jamal Agnew has made some noise lately, too, but Shenault has more overall upside, especially in Week 8 in a favorable matchup against Seattle. — ML

#33

Mecole Hardman, WR, Chiefs

Hardman disappointed against Tennessee, but that was true for virtually the entire Chiefs offense. We're still encouraged by some of the positive trends we've seen from Hardman the past few weeks, so he's in play as a boom-or-bust flex in a favorable Week 8 matchup against the Giants. — ML

#34

Dan Arnold, TE, Jaguars

Arnold has seen regular targets since going to Jacksonville, and next week he's an optimal matchup against a Seattle defense that's struggled against every fantasy position, including TE. Arnold will be a top streamer in a week where Darren Waller and Mark Andrews are on bye. — ML

#35

Ricky Seals-Jones, TE, Washington

Seals-Jones saw another healthy amount of targets (7) in Week 7. He caught six for 51 yards, which isn't overly impressive but still shows he has some PPR chops. His Week 8 matchup against Denver isn't exactly favorable, but RSJ is a big enough part of the Washington offense that he'll continue to have streaming value until Logan Thomas (hamstring) returns. — ML

#36

Evan Engram, TE, Giants

Engram continues to see a decent amount of targets (eight in Week 7), but his production doesn't match up (six catches, 44 yards). If that's all he can do when Kadarius Toney (ankle), Kenny Golladay (knee), and Sterling Shepard (hamstring) are out, what will he do when they're healthy? Well, we have no idea when any will be healthy, so Engram will continue to have some streaming value in a favorable matchup in Week 8 (@ Chiefs). Use him in PPR if you need him. — ML

#37

Mo Alie-Cox, TE, Colts

Alie-Cox scored for the fourth time in the past four games on Sunday night, positioning himself as one of the best TD-or-bust streamers you can find. His Week 8 matchup against Tennessee isn't particularly favorable on paper, but Big MAC has shown he can score against anyone. — ML

#38

Gerald Everett, TE, Seahawks

The Seahawks take on a Jaguars defense allowing the eighth-most fantasy points per game in Week 8, so Everett has a little extra upside if you're looking for a streamer. — ML

#39

Jonnu Smith, TE, Patriots

Smith looked to be having his best day as a Patriot in Week 7, catching two early passes (five targets) for 52 yards. However, he was knocked out of the game due to a shoulder injury late in the first half. If he's ready for Week 8, he has a great matchup against the Chargers, but obviously his health will determine whether he's worth streaming. — ML

#40

Tyler Conklin, TE, Vikings

Conklin has been more involved in the Vikings' offense over the past few weeks, showing some big-play upside. Dallas is slightly below average against TEs, so Conklin is in play as a Week 8 streamer and a potential hold. — ML

#41

Juwan Johnson, TE, Saints

Johnson is a classic TD-or-bust TE, and in Week 8, he gets a good matchup against the Bucs. He's risky, but if you need a streamer, Johnson has some upside. — ML

#42

Cincinnati Bengals DST @ Jets

This isn't the same ole Bengals defense from past seasons, and its pass-rush and secondary should outmatch backup Mike White and the Jets' skill group in this Week 8 matchup. Consider the Bengals a top streaming option. — JS

#43

Los Angeles Chargers DST vs. Patriots in Week 8

The Patriots have given up the most points to fantasy defense, including a few defensive touchdowns. Its offense lacks big-play ability, so Joey Bosa, Derwin James, and co. should be able to take advantage in Week 8. — JS

#44

Seattle Seahawks DST vs. Jaguars

Seattle's defense is bad, but Trevor Lawrence is due for an interception or two every time he takes the field. Seattle has some boom-or-bust streaming upside in Week 8. — JS

#45

Philadelphia Eagles DST @ Lions

The Lions lack decent WRs, and Jared Goff is turnover prone.Philadelphia has played well on defense against mediocre QBs, so that should be the expectation in Week 8. –JS

#46

Chicago Bears DST vs. 49ers

This could be a risky pick, but Chicago's defense has too much talent to write them off entirely (especially at home), and the 49ers' offense often looks pedestrian led by Jimmy G. — JS
For all the latest Sports News Click Here 
Denial of responsibility!
TechAI
is an automatic aggregator around the global media. All the content are available free on Internet. We have just arranged it in one platform for educational purpose only. In each content, the hyperlink to the primary source is specified. All trademarks belong to their rightful owners, all materials to their authors. If you are the owner of the content and do not want us to publish your materials on our website, please contact us by
email – 

[email protected]
. The content will be deleted within 24 hours.