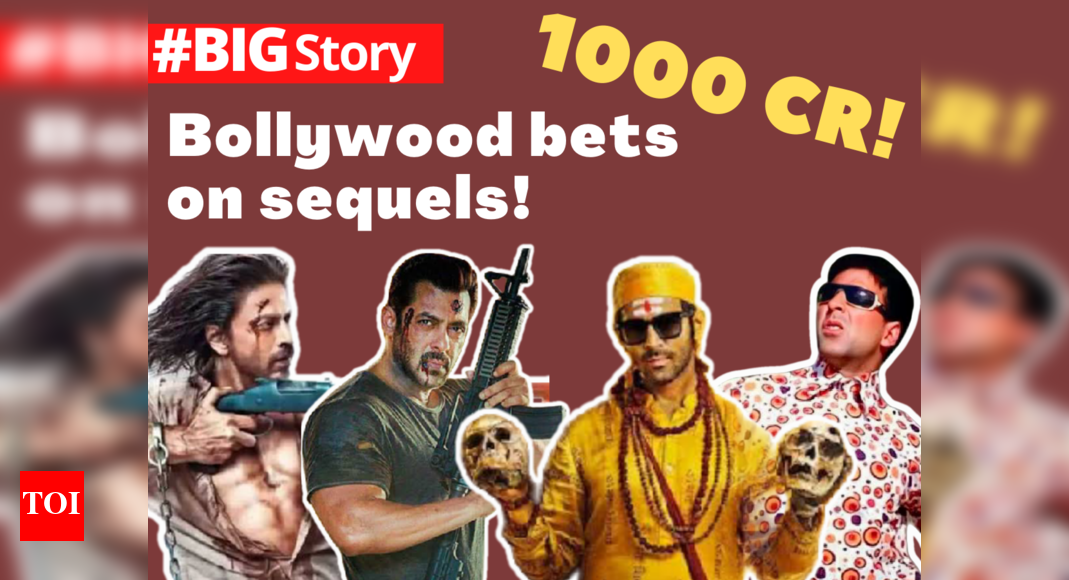 1000 crores at stake! Will sequels save the day for Bollywood? – Big Story – Times of India
Akshay Kumar, Suniel Shetty and Paresh Rawal are going to feature in 'Hera Pheri 4', 'Welcome 2' and 'Awara Pagal Deewana 2'. Kartik Aaryan is working in 'Aashiqui 3' and 'Bhool Bhulaiyaa 3'. Salman Khan's 'Tiger 3' is in the offing and fans are already asking Shah Rukh Khan to follow up with 'Pathaan 2'. It's raining sequels in Bollywood and trade pundits believe 2023 and 2024 are going to have an extended season of franchise films and movie universes.
With the recent failures of 'Shehzada' and 'Selfiee', South remakes seem to have gone out of fashion. Thanks to the success of Ajay Devgn's 'Drishyam 2' (a unique hybrid of being both a South remake and a sequel) and Ranbir Kapoor's 'Brahmastra' promising the arrival of a superhit Hollywood-esque franchise, the audience's hopes are soaring sky-high. People are already contemplating if SRK's 'Pathaan' and Salman's 'Tiger' will unite with Hrithik Roshan's Kabir from 'War' as Yash Raj Films' spy universe expands.
But are sequels, franchises and movie universes the answer for guaranteed success? Have the coffers of Bollywood's originality become empty? Is the audience only going to shell out hard-earned money on familiar characters? In this week's Big Story, ETimes explores B-Town's new-found passion for sequels and we examine if this trend is another bubble waiting to burst. There's lots of big money riding on a bevy of sequels.
What are the stakes?
If you tally all the sequels and franchise films in production right now, you will end up with a number higher than a dozen. Trade analyst Atul Mohan does the math and says, "Many film studios are currently planning a number of sequels, franchises, and cinematic universes. While there are rumours swirling about the number of films that will be made, some reports suggest as many as 10-12, it is best to wait for official announcements to confirm these figures. This year, we can expect the release of four highly anticipated franchise films – Yaariyaan 2, Dream Girl 2, Gadar 2 and Tiger 3 – which are expected to gross around 450-500 crores collectively."
Most of these heavy-duty sequels and franchises feature big stars like Shah Rukh, Salman, Akshay, Hrithik, Kartik, who all demand big sums and in return offer big box office haul, too. Add up all the numbers and the total money at stake could be jaw-dropping. Trade Analyst Komal Nahta dares to speculate as he says, "Making an assumption, one could say perhaps a 1000 crores is riding on the fate of these franchise films." Distributor and Analyst Raj Bansal gives credence to the claim and says, "Thousands of crores of rupees are riding on sequels and franchises."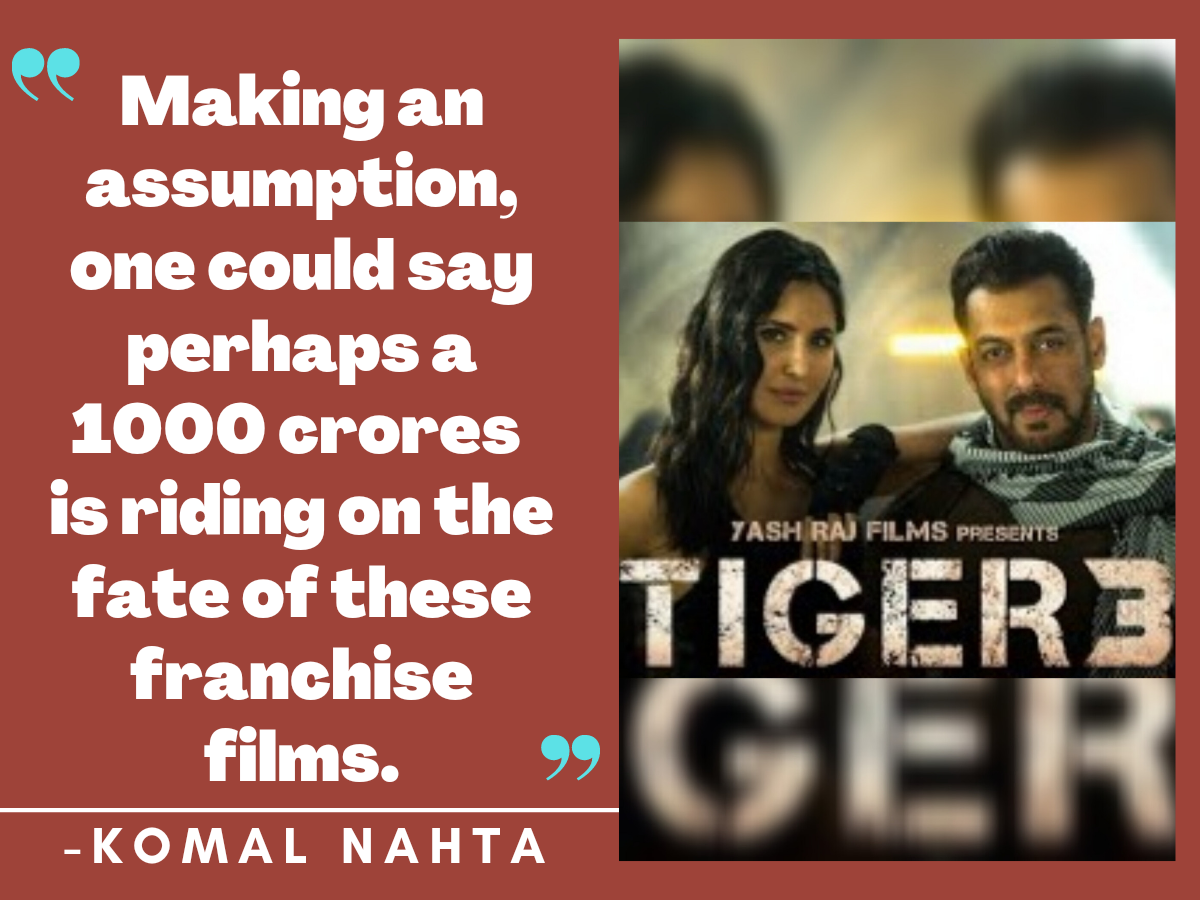 Sequel or original, where is B-Town's focus?
Are Bollywood's producers placing all their big bets on the franchise model? Anees Bazmee, who's given Bollywood the 'Bhool Bhulaiyaa' franchise thinks its originality that breeds franchises and sequels. He says, "A franchise is created when a film becomes a hit. So, the first film doesn't have a franchise, you see. 'No Entry' and 'Welcome' were not franchise films. When a film becomes a hit and generates goodwill among the audience, you feel like taking it forward. If you feel like you can make a sequel with the same passion and love with which you made the first film then you should definitely make a franchise. After a hit film, audiences have bigger expectations from its sequel, too."
Komal Nahta is succinct in his opinion when he says, "'Pathaan', the biggest hit of recent times, is not a sequel." Film exhibitor Akshaye Rathi supports the argument by saying, "The focus is not on franchises alone. There are upcoming originals such as 'Maidaan', Neeraj Pandey's next, 'Kisi Ka Bhai Kisi Ki Jaan', 'Jawan', 'Dunki' and a couple of Akshay Kumar's films which would be worth of the audience's time, money and intelligence."
Raj Bansal says, "I don't think Bollywood is banking on a franchise model. Unfortunately, certain films were made as remakes and all didn't do well, except for a few. The success rate of sequels is higher because it's established by the fact that the earlier film did really well. So, the producers feel that making another film on the same pattern will guarantee success."
Big stars means big money!
Hiring a big star means dishing out big monies. And most of Bollywood's sequels are built on stars and superstars' image. Atul Mohan reasons, spending big is necessary because, "Today, films are not just limited to the local market but have a global reach, and hence, require a higher investment to meet the rising expectations of audiences. Making big budget productions requires an increase in the use of visual effects, which requires advanced technical skills and sophisticated equipment. It all leads to more time in making the film and therefore needing more money. To justify these big spends, producers hire big stars and are willing to pay exorbitant fees to ensure their presence in the film."
Raj Bansal chimes in when he says, "It's only the actors' fees that add to the budget. For example, Kartik Aaryan doing Bhool Bhulaiyaa will add 30 crores to the budget whereas Akshay Kumar doing the film will add 100 crores. Shooting costs remain the same."
Akshay Rathi argues that you can have big stars in small budget films. He says, "Small budget movies can also be made with big stars. The budget of Tanhaji or Bholaa will be significantly higher than the budget of Drishyam 2. Big budgets are not required for stars but for the movies that are big scale. As long as the makers and everyone on the value chain have that clarity, movies will do well. As we say in the industry, it's not the films or stories that fail, it's the budgets that fail."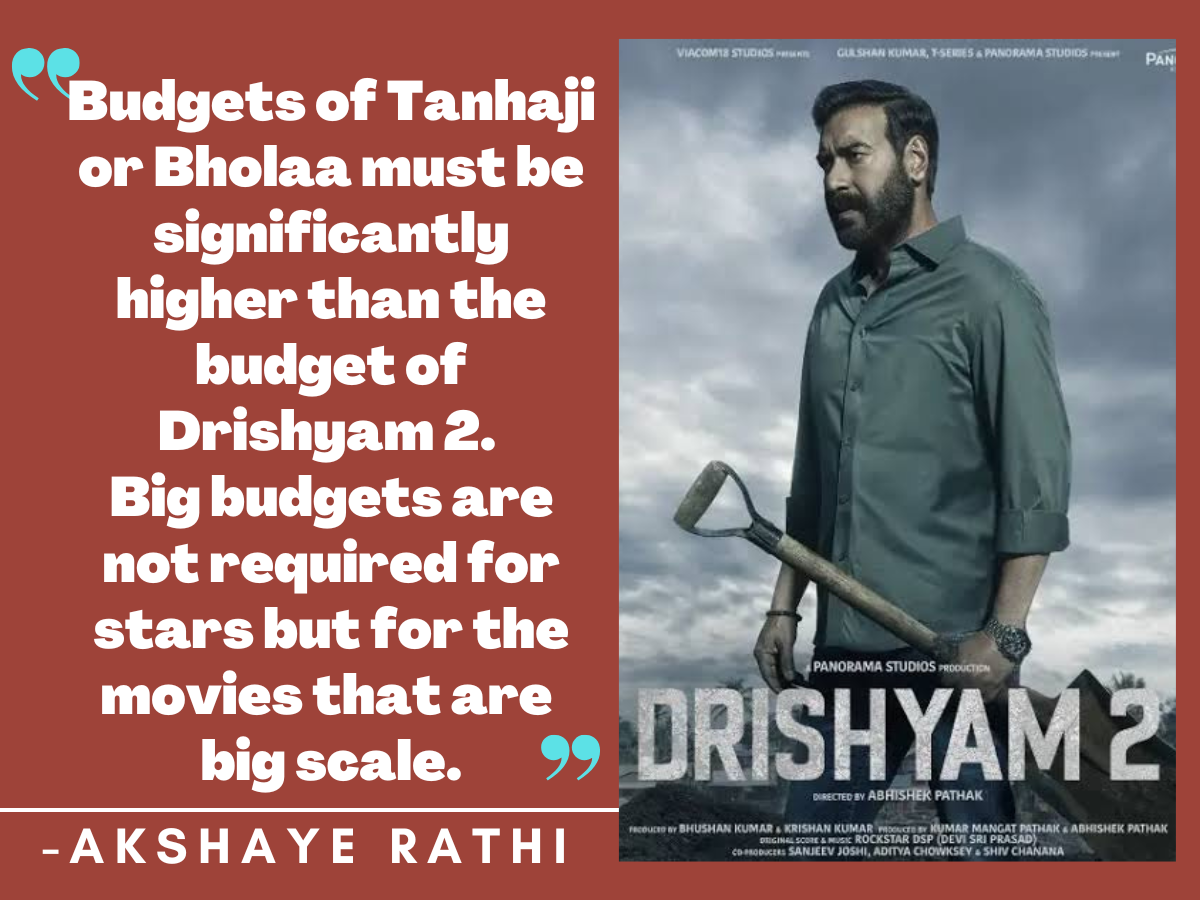 Anees Bazmee agrees and adds, "I don't think the budget should be increased just because you have a big star. A film's budget should be based on the mood and requirements of the film. For example, Drishyam 2 has a big star in Ajay Devgn, but I don't think it's a big-budget film."
It's easier to sell a sequel
Sequels and franchises are built on the popularity of established stories and characters. The audience is already in the mood to root for their favourite heroes while watching a sequel. Komal Nahta explains, "With established and popular characters the groundwork has already been done. From an audience perspective you feel the urge to see more of a character and story that you are already invested in."
Anees Bazmee reasons, "Baburao Apte from 'Hera Pheri', Majnu and Uday Shetty from 'Welcome' are iconic characters. People love to see them again and again. Films in any franchise should be made without corruption and giddy ambition. Make a film from your heart. If you don't, people will come to know that you've done the mathematics of business and are trying to fool the audience."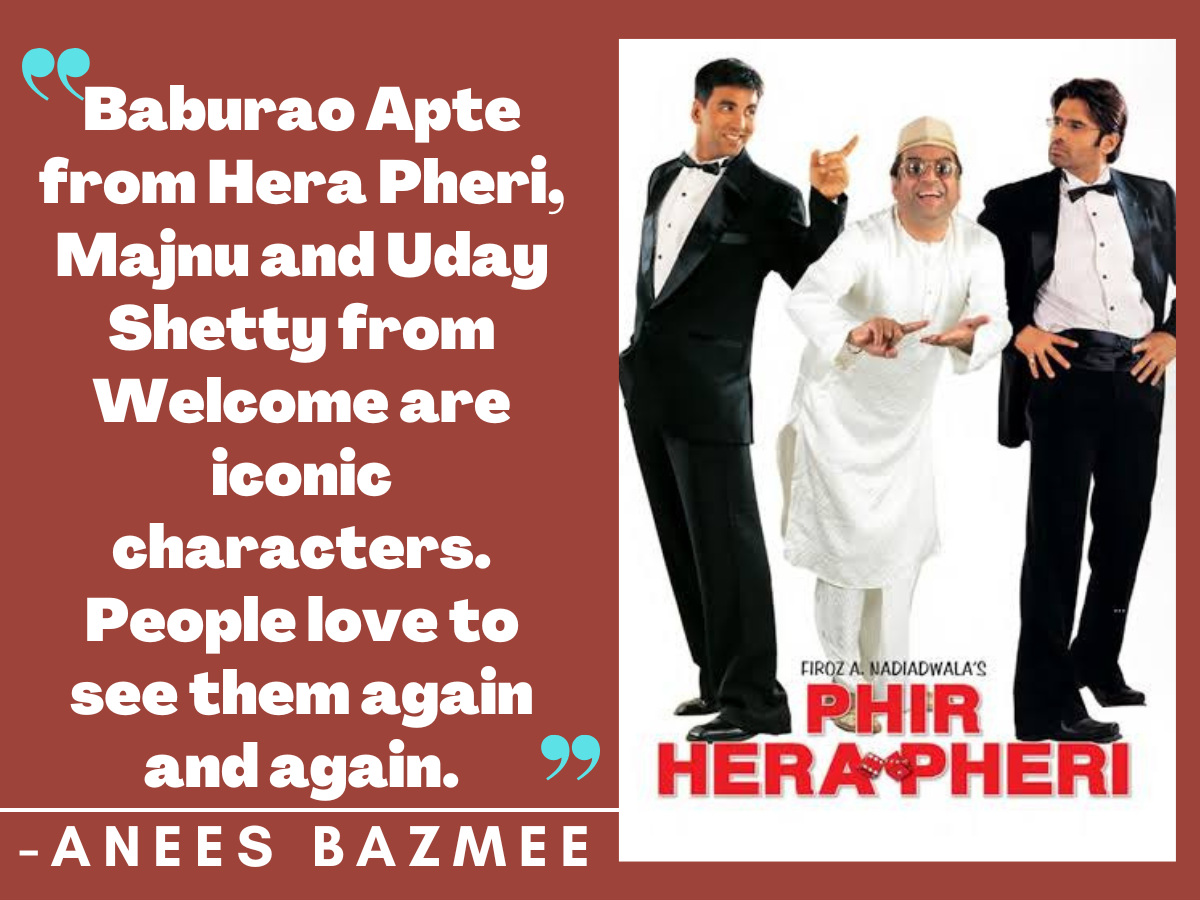 Akshaye Rathi speaks of the flipside of making a sequel and explains, "The familiarity of a franchise film obviously helps when it comes to the awareness that's there from Day 1. People who have already enjoyed the previous version are already invested in the new film. But on the flip side, there are also the expectations created by these franchise. If you don't scale up every instalment of a franchise and increase its entertainment quotient, then it becomes a bane."
Raj Bansal feels choosing the right films and characters for sequels is also the key. He says, "As an industry man, I would have expected a 'Dhoom 4'. I would have expected another 'Munnabhai', 'Hera Pheri' and 'Singham' film. Unfortunately, nobody is planning on those lines. Other films that are not so successful are being planned for sequels." Atul Mohan elaborates further and says, "Films need to be crafted and presented well, otherwise, they can end up like the two franchise films from 2022 that performed poorly – 'Heropanti 2' and 'Ek Villain Returns'."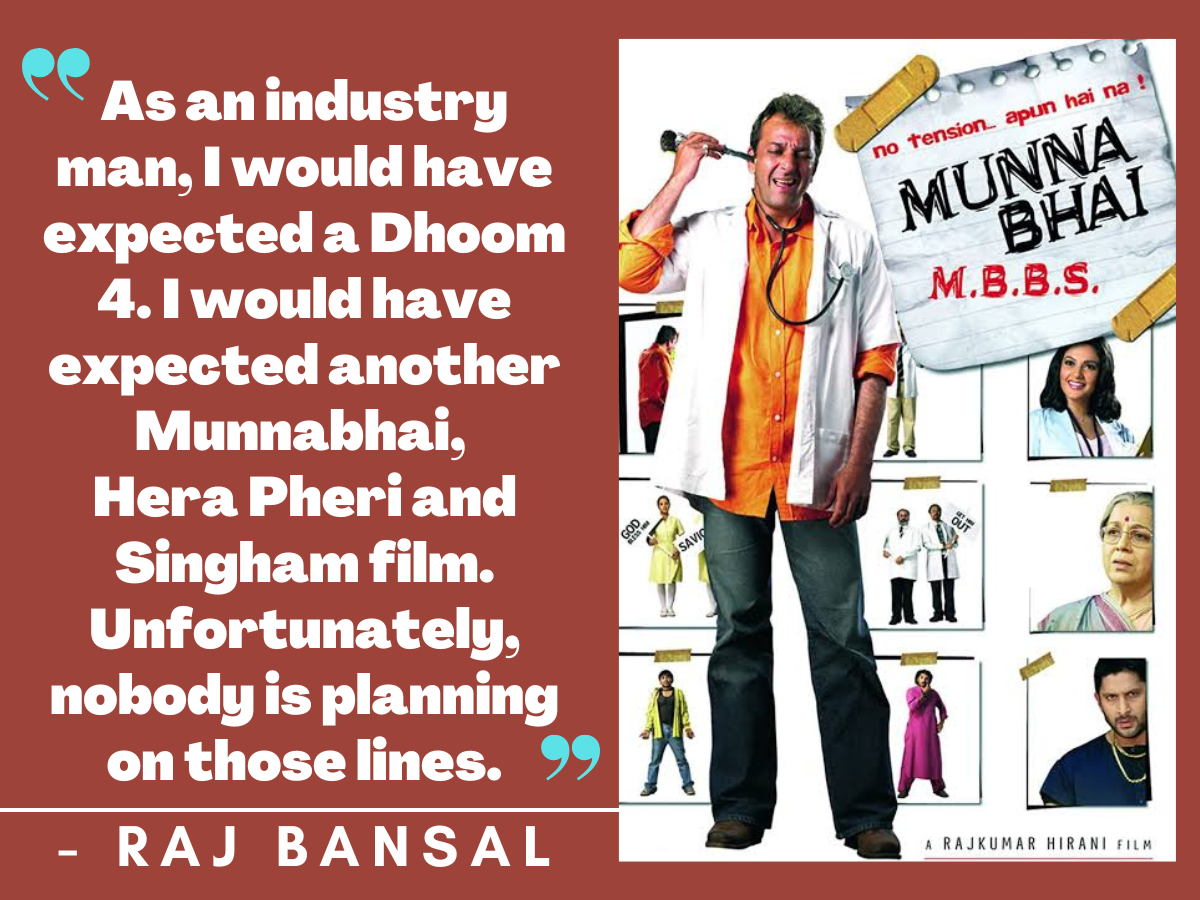 Are we simply copying the Marvel formula?
Rohit Shetty has already proven that you can make a cop universe and films like Singham, Simmba and Sooryavanshi are a testament to the success of creating a cinematic universe like Marvel has done in Hollywood. Similarly, Yash Raj Films is making a spy universe bringing together heroes like Salman Khan, SRK and Hrithik. Raj Bansal puts it bluntly, "The cop universe and spy universe models are absolutely inspired by the MCU model from Hollywood."
Komal Nahta adds, "Before Pathaan released there was no talk of a franchise or a sequel. The spy universe is following a Hollywood model, but that's a crossover between existing movie timelines. When Pathaan 2 comes out we can say, 'Oh that film is riding on the laurels of Pathaan'. We've always looked at Hollywood and this universe saga is an inspiration. We'll just have to see how it plays out."
Anees Bazmee feels inspiration is good. He says, "Hollywood has big films and franchises. There's nothing wrong in getting inspired by that. All Tiger films will be good and with Pathaan and Tiger together, it becomes a huge craze."
Back to the basics
All said and done, success comes to those films that are good. When the makers tell a good story, the audience always reacts well and brings in success and box office glory. Atul Mohan explains, "2022 was was not a particularly great year for the film industry. But, two of the biggest hits were 'Drishyam 2' and 'Bhool Bhulaiyaa 2', both of which were part of franchises. While franchises do offer certain benefits such as easy marketing and brand recognition, success is never a guarantee."
Raj Bansal bridges the thought as he says, "Earlier they used to make franchises for successful films such as Dhoom, Hera Pheri and Singham. Of late everyone wants to do the same thing with not-so-successful cinema. That's a definite failing."
Finally, Anees Bazmee offers the simple yet final perspective when he says, "I don't think that sequels and franchises will work only if they have big budgets and big stars. There are many big-budget sequels and originals that have flopped. Films, whether a sequel or original, have to have a heart and they need to connect with the audience emotionally." That's a million dollar thought alright.
For all the latest entertainment News Click Here 
Denial of responsibility!
TechAI
is an automatic aggregator around the global media. All the content are available free on Internet. We have just arranged it in one platform for educational purpose only. In each content, the hyperlink to the primary source is specified. All trademarks belong to their rightful owners, all materials to their authors. If you are the owner of the content and do not want us to publish your materials on our website, please contact us by
email – 

[email protected]
. The content will be deleted within 24 hours.